Crossing Oceans – Review by Martha A. Cheves, Author of Stir, Laugh, Repeat
'Remember that night in the car, David? I started to tell you, but you broke up with me first. You said things could never work for us. You told me our
fathers would never get along. You told me you didn't share my desire
for having a family. How could I tell you you were going to be a father
right after you said you never wanted children? When she was born, I
called you from the hospital as I held her in my arms. I couldn't wait
to show you what we'd created, but your answering machine picked up and I
heard "David and Lindsey Preston aren't here to take your call…" I
didn't know you'd gotten married. It had been less than a years since
we broke up. You wouldn't believe the shock I felt, the betrayal, the
pain… I didn't want to cause trouble for you… I couldn't….'


Jenny Lucas is the
Prodigal Daughter
returning home after walking away six years ago. David Preston had thrown her away when she needed him the most. When she was pregnant
with their daughter Isabella. Now she's bringing her daughter home to
meet the family she's never met, including her father. But Jenny isn't
renewing the relationship with her own father as well as David for old
times' sake. She's doing it out of necessity. She must find a home for
Bella because she is dying with cancer.
The Lucas', as well as the Preston family, have a lot of baggage to overcome. Jenny's dad insists that David's father killed her mother by
misdiagnosing her illness. And her death is something that he's never
been able to get over making it difficult for him to get close to
Jenny. So, hating the Preston family as much as he does, he insists
that Bella should be raised by him. David, as well as his family, have
to overcome the fact that Jenny has done something that he and his wife
Lindsey haven't been able to. She has given him a child, which has made
him determined to have full custody of Isabella no matter what it
takes. Bella, on the other hand, has to learn to give to others
something she has only had to share with her
mother… love
.
And while wading through these obstacles, everyone has to accept
Jenny's dying. Can they all put aside their differences and help Jenny
and Bella make their transitions as comfortably and positive as
possible?
I've never read a book quite as touching as Crossing Oceans. The characters are all written very strongly. Their courage, and sometimes lack of courage, is something that I think will stay with me
for a long time in hopes that if I'm ever put into either of their
positions, I can remember their strength exposed in Crossing Oceans It is one beautiful book.


Tyndal House Publishers
2010
390 Pages
Review Stir, Laugh, Repeat at Amazon.com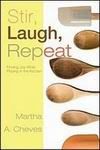 Labels:
Book Reviews,
Cancer,
cookbooks,
Crossing Oceans,
Family,
garlic,
Gina Holmes,
Martha A Cheves,
Spiced Egg Salad and Spinach,
Stir Laugh Repeat